Welcome to Season Three of Mojo Mondays Bootcamp! 
Mojo is a state of mind filled with excitement and possibilities. It's the fuel that moves us closer to our hopes and dreams – but how do we get there?
Say hello to the Mojo VISION Framework.
I've condensed over twelve years of coaching Fortune 500 leaders and all my learnings from two seasons of the Mojo Mondays Bootcamp into this straightforward framework to help individuals and teams overcome any obstacle that stands between them and their goals. 
Let's break it down…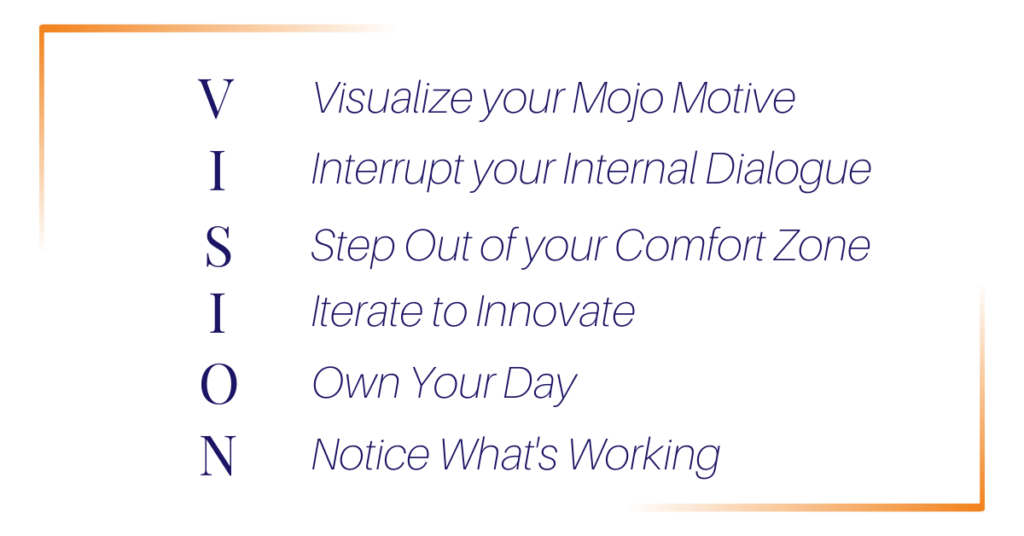 Each episode we'll be asking our guests these questions as they walk us through their journey to a Mojo state of mind. I'll also wrap up each episode with a Mojo VISION Move – a bite size action step – to kick start your journey from where you are to where you want to be.
The first interview of Season Three drops on Monday, July 12th – we'll be discussing why being present is the key to balance and what's possible when you Own Your Day with a CEO that has mastered it!
Connect with me to learn more about the VISION Framework
Sign up for your Mojo Mondays Bootcamp Boost
Scan QR Code or enter your email to receive a weekly Mojo Boost directly to your inbox!